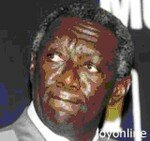 A biography of President Kufuor was last night launched in

Accra

. The 387-page book titled "Between Faith and History", is published by a Ghanaian author and journalist Ivor Agyeman-Duah.

The book was launched under the auspices of the Centre for Intellectual Renewal,

Ghana

. In his remarks, the Vice President, Alhaji Aliu Mahama, said there is the need to preserve the lives and actions of leaders through writing to help shed light on the circumstances and motives that influence the nation's progress. He said President Kufuor"s political achievements, as chronicled in the book show that the African and the Ghanaian in particular is as democratic if not more democratic than some recognised democrats.

A renowned African writer, Professor Wole Soyinka, who was the guest speaker, said, "Never again should Africans allow the slave trade to take place on the continent." Professor Soyinka, urged Africans to study their history to serve as a guide so that they will not repeat oppressions of the colonial era. The Chief Executive of Cocobod, Isaac Osei said President Kufuor has been able to implement his plans which have made him a true democrat.

More than one billion cedis was raised through auctioning of the book and contributions from friends. The proceeds will be used to run a foundation for Peggy Appiah, an Anglo Ghanaian novelist who died at the age of 84.

Source: My Joy

Between Faith and History, A Biography of President Kufour
By Ivor Agyeman-Duah.